FRANCESCO'S PRIVATE HOME at Fifth floor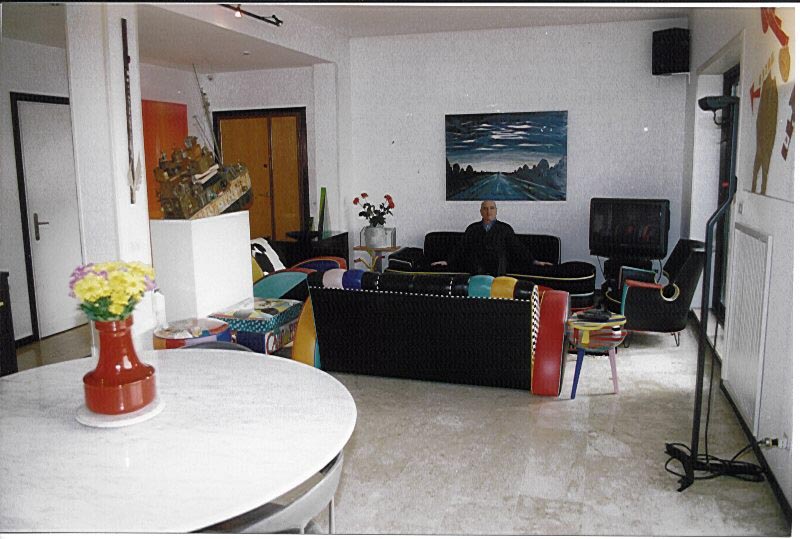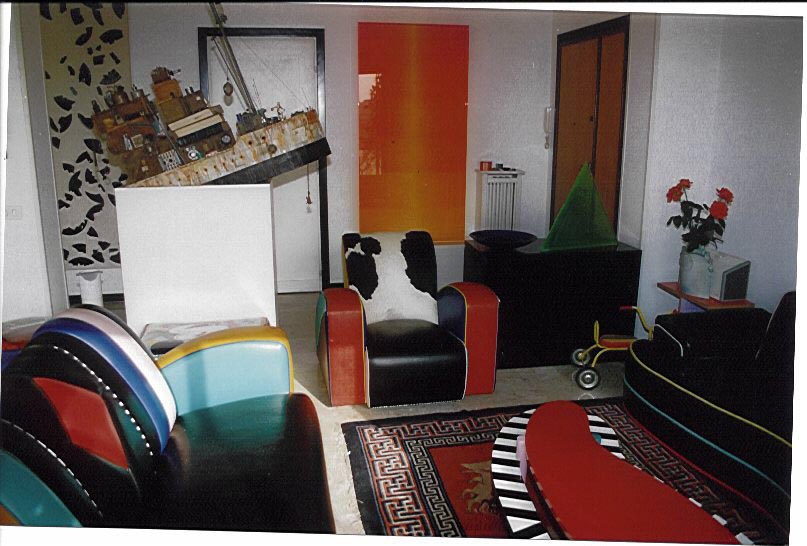 Living & dining room
Live in a setting of a contemporary art museum,Memphis 50's style . Naturally luminous plus bright colours and a joyous atmosphere. You cannot be depressed in a place like this.
Even the bedrooms are full of artworks besides having a very comfortable double bed and private bathrooms with shower and bidet.
Here below guest bedroom seen from both sides: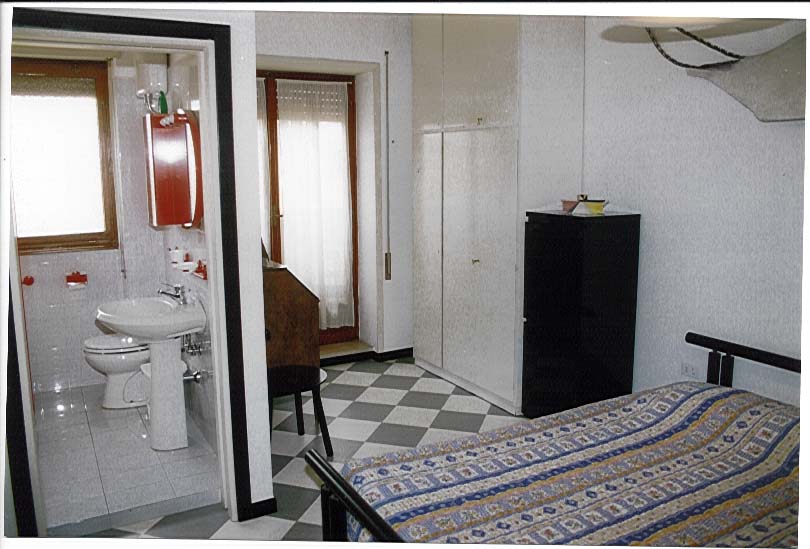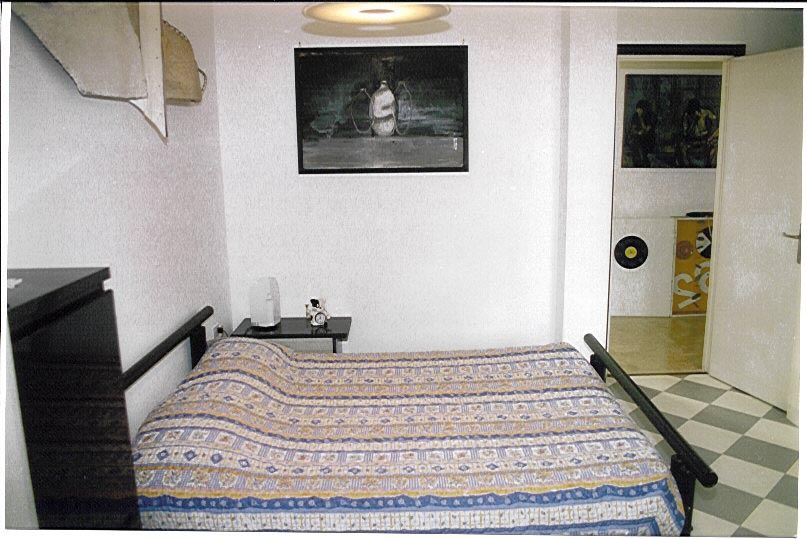 Here is the master bedroom, studio and bath: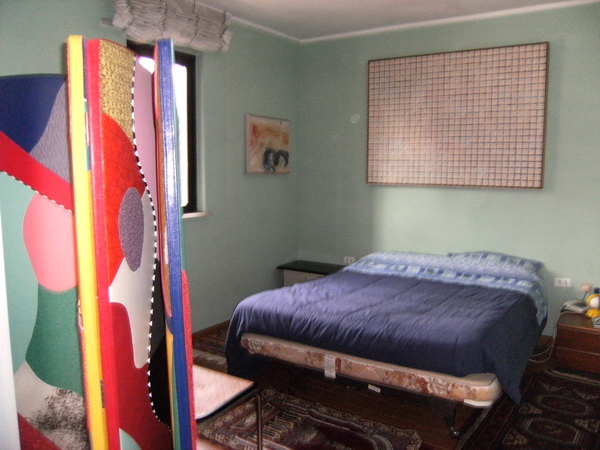 Master bedroom view from studio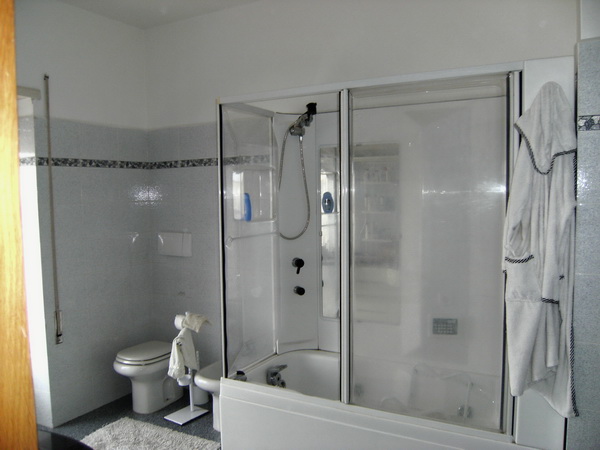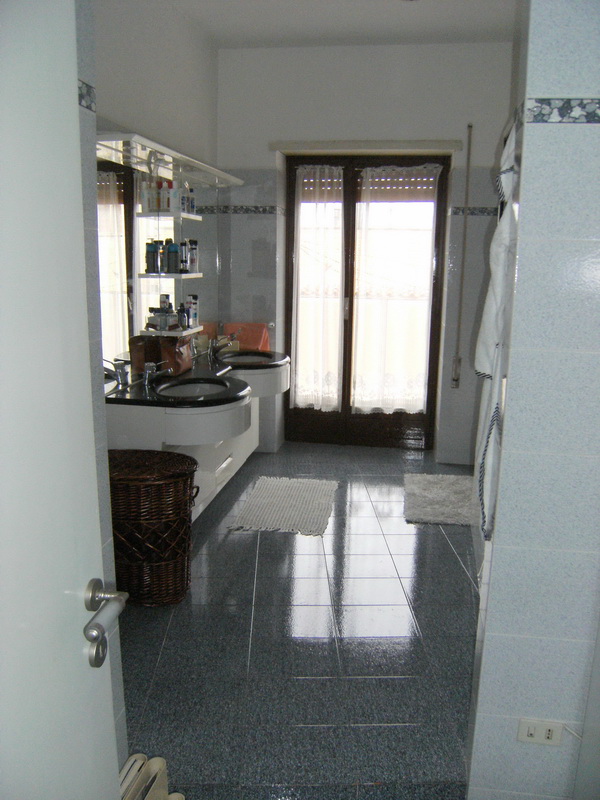 Masterbath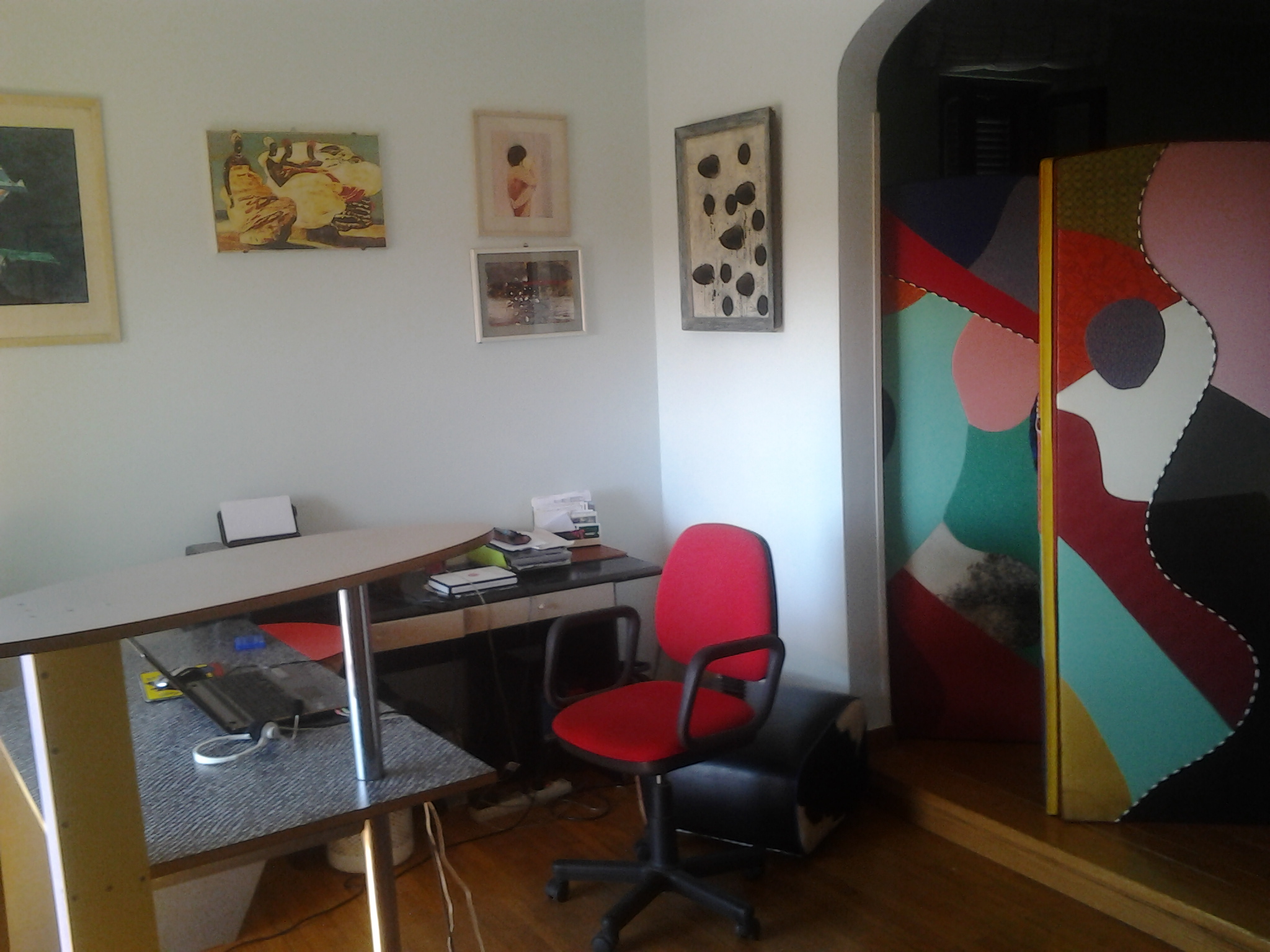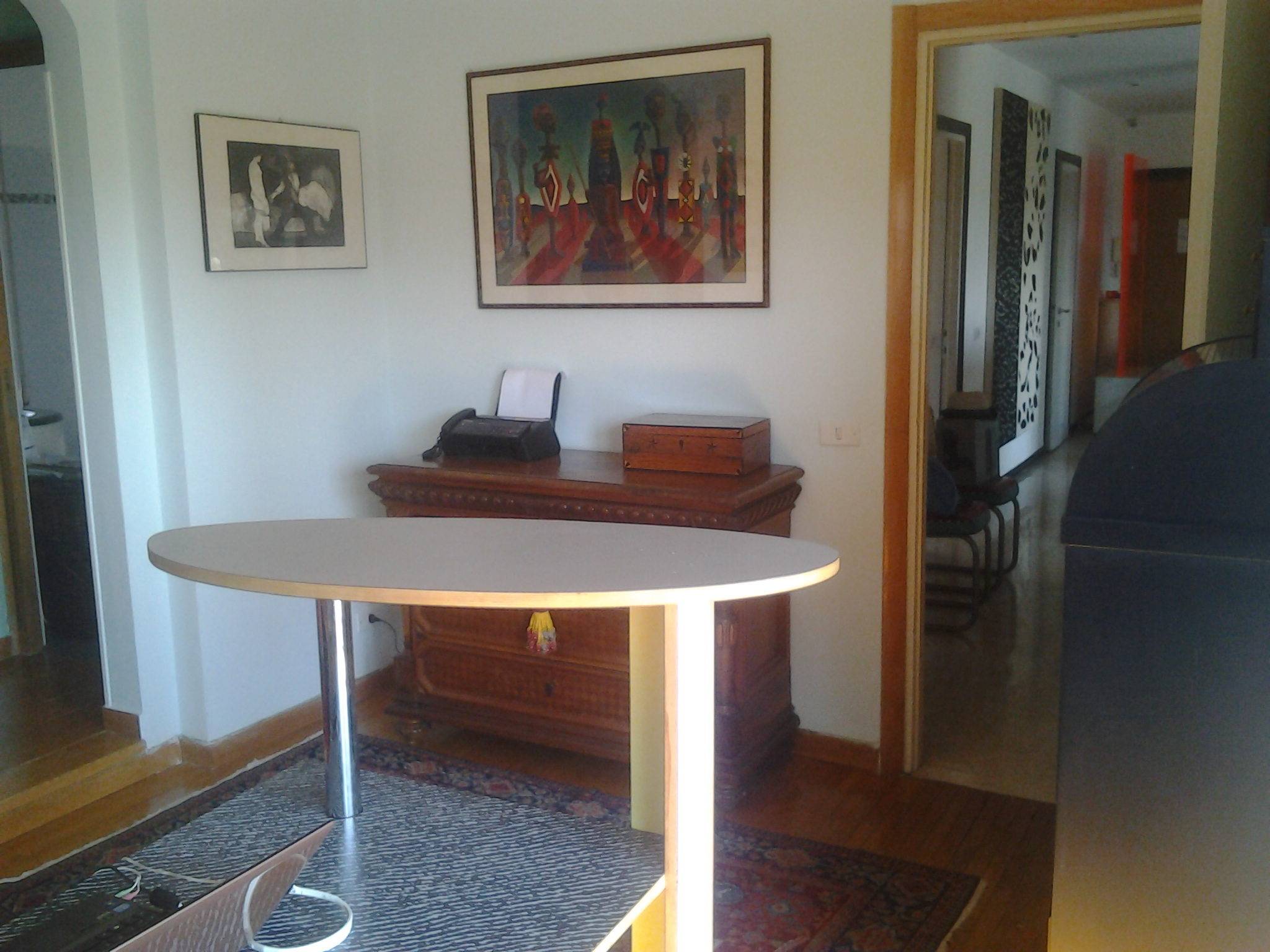 From Studio to main debroom and to corridor
Finally a tour of the surrounding terrace and than over to the modern kitchen.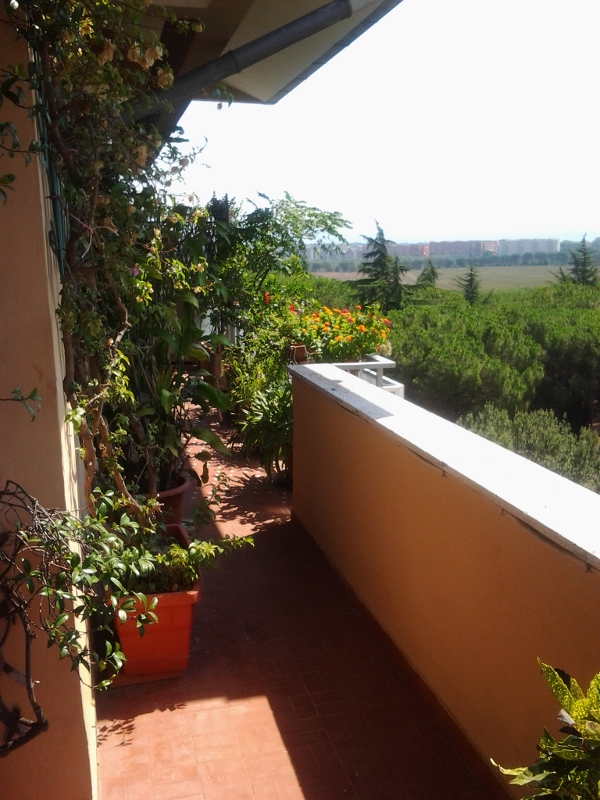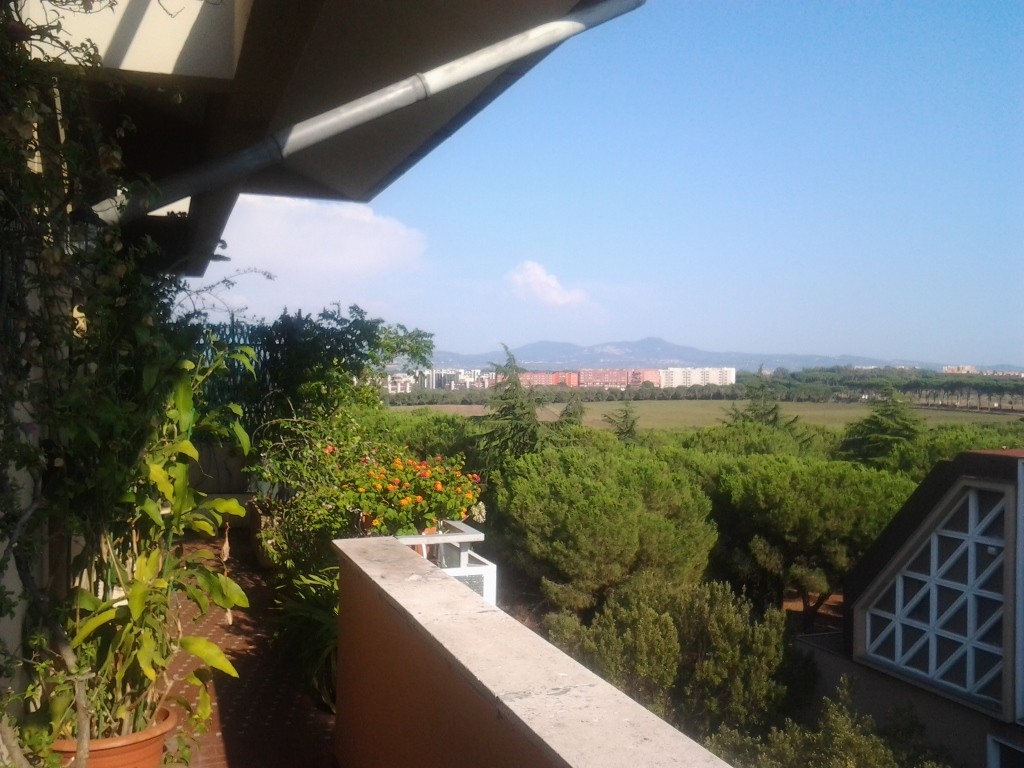 View of "Castelli Romani"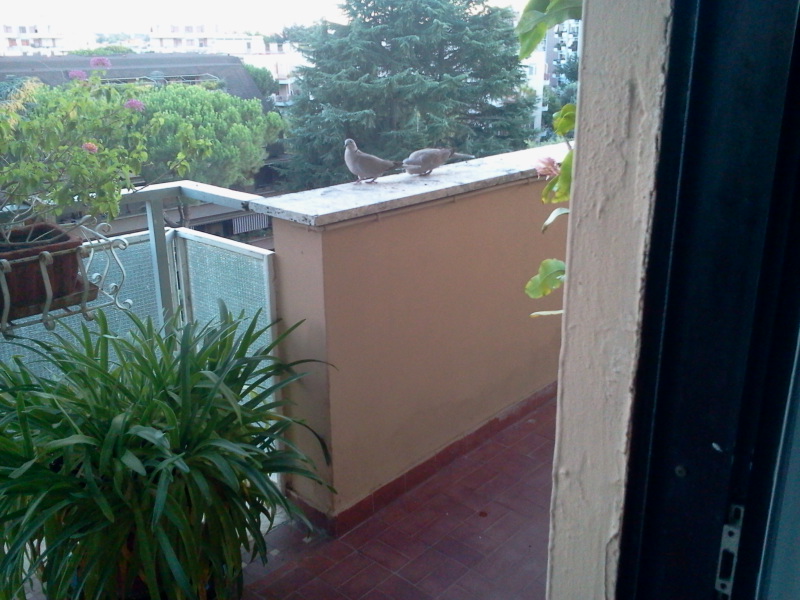 These are my beloved turtle doves called Cicci & Ciccia. if you feed them they may let you touch them
Kitchen
Rent is € 500 per week plus € 20 for final cleaning charges. No breakfast served. Taxes and utilities are included.
Linen & towels are provided. Whatever else is used has to be replaced before departure.
The winding staircase on the terrace leads to the penthouse apartment but there is a gate preventing guests to descend.
Because of the valuable objects contained I only accept guests providing full personal and professional address, copy of an ID and a security deposit of Euro 250 at arrival.
Version française
L'appartement est lumineux avec des couleurs vives et une atmosphère joyeuse. Vous ne pouvez pas être déprimés dans une place comme ceci. Même les chambres à coucher sont pleines d'œuvres d'art avec un lit double très confortable (vu d'angles différents) et salle de bains privées munies de douche et de bidet.
Enfin un aperçu de la terrasse environnante, du salon et de la cuisine moderne.
La location de l'appartement coute € 500 par semaine plus € 20 pour les charges du nettoyage final. Le petit déjeuner n'est pas servi et ce qui est consommé doit être remplacé au départ, sauf café et thé. Les impôts, le gaz et l'électricité sont inclus.
Draps et serviettes sont fournies.
A cause des objets de valeur contenu je demande l'adresse personnelle et professionnelle du locataire ainsi qu'une copie d'un document d'identité ainsi qu'une caution à l'arrivée de Euro 250.

francesco@fpate.com
Tél/Phone: +39 3487108320 (but SMS only as i am in Tunisia right now) or +216 98997361
secondcasa.com